Our Pregnancy
<![if !vml]>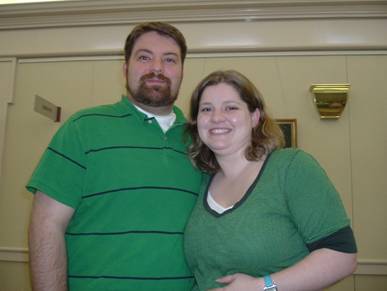 <![endif]>
We decided that we wanted to have our first child late in the summer of 2007. We got pregnant on our first try and got the positive test result in August 2007. We were on cloud nine.
We followed the superstition of not telling others about our pregnancy until further into the pregnancy. And, because my parents had lost a daughter 5 hours after she was born, I never bought anything for babies before they were born. I started the pregnancy wanting to continue this. However, I couldn't conceive of how excited I would be to be having a baby of my own.
We decided early on, well Travis decided, that we didn't want to know the sex of the baby. I asked Travis what we would call the baby (instead of "it"), and a few days later he came home from work very pumped about an in utero name he'd thought of.  "Rufus," he said. And, although it wasn't exactly gender-neutral, we decided to call our baby Rufus.
Our first appointment with the obstetrician was at about 5 weeks, but the ultrasound showed the gestational age of the baby was more like 7 weeks. So, our estimated due date was changed from May 5, 2008 to April 22, 2008. Everything looked great.
We continued going to the doctor on a regular basis (once a month during the 1st and 2nd trimesters). Our second ultrasound, at maybe 13 weeks, was just to check the baby's heartbeat—and, again, everything looked great. During my first trimester, I had horrid all-day sickness. The doctor said everything was normal.
Our third ultrasound was at around 20 weeks. It was the growth ultrasound. The ultrasound technician said that she was having trouble getting a measure of the baby's femur. She said that the baby's legs were bent up underneath him. We know now that would have been impossible. She never called for a second opinion, but told us that everything was normal—no red flags. The second trimester continued to be good. I craved foods but felt great otherwise.
Because of insurance, the doctor told us that we wouldn't get another ultrasound. We continued on. At the beginning of the third trimester we began going to the doctor every two weeks as most do. The baby's heartbeat continued to be good—around 140 bpm. The doctor said that my pregnancy was even "too normal." I measured a small average, but, again, no red flags.
<![if !vml]>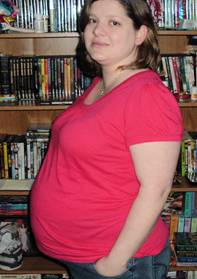 <![endif]>
After 35 weeks, I began going to the doctor every week. I was feeling tired more often. I would get winded when walking stairs or vacuuming, but nothing out of the norm. About two weeks before my due date, I asked my doctor if he was sure that the baby was head down. He said he'd do a quick ultrasound to make sure. And, sure enough, our little one was head down. But when the doctor went to scan the rest the baby's body, we stopped him, reminding him that we didn't want to know the sex.
I was making little progress as far as labor was concerned. The baby was dropping but not enough to push my body into labor. At our 39-week appointment, our doctor said that being induced looked more and more likely. I really didn't want to be induced. There was a chance, though, that things would look better the next week—on my due date. So, Travis and I did everything possible to try to get my body to go into labor. At my 40-week appointment, the doctor said I'd made no progress and we needed to schedule an induction for the 28th. I cried. And we continued trying to get my body to go into labor naturally.
April 28th was a Monday morning. We got to the hospital at 6 a.m.