Anakin's Life
<![if !vml]>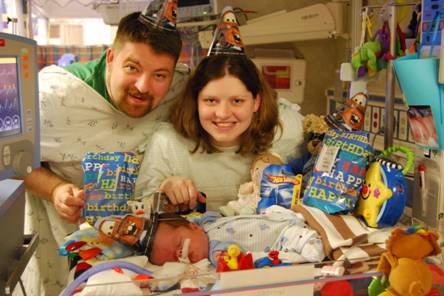 <![endif]>
Along with our families, we tried to make whatever time Anakin had on this earth to be the most fulfilling ever. After the initial couple of days of simply coming to grips with his prognosis, we made it our goal to help Anakin live a lifetime in his short life. From the night he was born to May 30th, Anakin lived in the NICU.
We made sure that he had toys. We read to him. He loved Horton Hears a Who, Brown Bear, Brown Bear, If You Give a Mouse a Cookie, Nobody Like You, I Love You Through and Through, Bible stories, his daddy's graphic novels, as well as his daddy's other books. We also took our iPod up to the NICU. He loved music. He didn't seem to be a fan of Kenny Rogers or REO Speedwagon, but he loved Lynyrd Skynyrd, Rascal Flatts, and Elton John. He listened to a little bit of everything. We took pictures of everything—smiles, yawns, poops, diaper changes, baths, sleeping, awake, etc… When you know that your time with someone, especially your child, is so short, you document everything. And we did. We have over 3,000 pictures of our Anakin.
Although we wanted to focus on Anakin, we also wanted to know as much as we could about his possible diagnosis. I was in the hospital until that Friday and the hospital has no internet access. So, Travis' first chance he got, he started researching. When you search for Thanatophoric Dysplasia, you mostly find medical websites with lots of jargon (one of the reasons we wanted to create this site—a real-life experience). Everything said 0% survival. Everything mentions 3 "long term" survivors-a child almost 4, a child almost 5, and a boy who was 9. Anakin seemed to have all the classic signs of TD Type 1-the extra skin folds, crooked legs, and small rib cage. You see, the rib cage was so small that his lungs couldn't expand fully and his ribs wouldn't grow.
We didn't want to take the doctor's word for it. We needed to know for ourselves, see for ourselves. And everything we saw told us that Anakin had TD, but we had hope. There are other forms of dwarfism that could possibly present the same way, but those would allow him to live. Hope, though, was in short supply. It's hard to go to see your baby everyday with this hanging over you.
We had chromosomal tests done, which showed that Anakin's chromosomes were perfectly normal. It was something to hold onto until we got the genetic tests back. TD is a genetic mutation and only a genetic test could give us the answer we needed. The test results came back positive for TD. Again, I cried. We decided that day that we wouldn't leave Anakin on a ventilator to slowly suffocate, to die in a hospital. We decided to take him home, a place that knew only love for him. Although the medical personnel didn't expect him to live more than a few minutes to an hour after he was taken off of the vent, he lived 40 hours at home with us. And he passed away in my arms while his daddy held his hand. Our souls died.
From the night he was born, Anakin was put on prayer lists all around this nation. Prayer warriors we've never met had him on their minds. We couldn't be thankful enough for that. But some prayers go un-granted, for whatever reason, and allowing Anakin to live was one such prayer. But after the test results came back, our prayer was just for Anakin to get some good quality time at home with us, to see the sunrise with him in our arms. That prayer was answered.
We've included, below, links to more in-depth descriptions of Anakin's life week-by-week, so everyone can know all about his life. We kept a journal every day so we wouldn't forget a thing. We hope it might be useful for someone.